Beatriz Furest PESCA Sandals Musgo Green
---
Made in Europe
Small Producer
Peep toe sandals with strap closure.
Peep-Toe-Sandalen mit Riemenverschluss.
Vachetta Leather.
Design made with the best quality materials.
Beatriz Furest always use Italian leather and create their own products
from a completely handmade manufacturing process in Spain.
***
Vachetta-Leder.
Design, das mit den besten Qualitätsmaterialien hergestellt wird.
Beatriz Furest verwenden immer italienisches Leder und erstellen ihre eigenen Produkte
aus einem vollständig handgefertigten Herstellungsprozess in Spanien.
Brand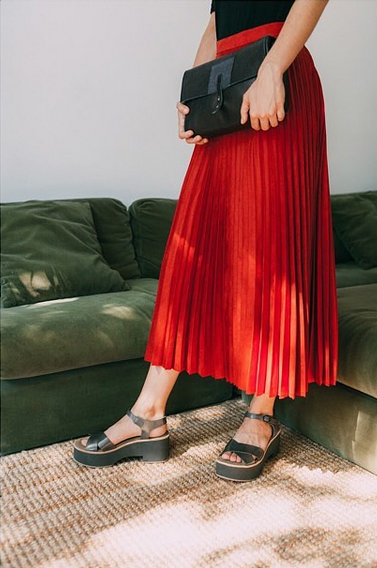 Beatriz Furest
Die schönen Ledertaschen und Accessoires von Beatriz Furest werden allesamt in kleinen Manufakturen in Barcelona hergestellt, aus feinstem Rind- und Lammleder. Das Label der jungen Designerin existiert seit 1998.
EN: Beatriz Furest, the founder of the brand, comes from a family that has dressed the gentlemen of Spain for over a century. In 1898 her relatives opened their first store,«Furest», in Barcelona's Plaza Real, starting what is now a legendary menswear label that continues to thrive years later. Her family's love for fashion, art and design had a profound effect on young Beatriz. Raised in the Furest's busy workshops, she learnt the tricks of her trade from the traditional methods practised by her forefathers. Beatriz recalls how different colour trends were applied to classic tailoring and incorporated into new collections each season. It wasn't long before Beatriz began to dream of setting up her own brand. Noticing that it was difficult to buy quality leather accessories inspired by streetwear, she felt compelled to fill this overlooked gap in the market.