Be Beard My Friend Gesicht und Bartöl 30ml
SKU
BBMFOAG30.MANDEL.BEARD.OIL.30M
Labels
Made in Europa
Sustainable
Fair
Organic
Vegan
Small producer

Das hochwertige Bart- und Hautöl versorgt deinen Bart und deine Haut mit vielen wichtigen Nährstoffen und bildet einen Schutzfilm, der vor Umwelteinflüssen schützt.
Eigenschaften: Durch tägliches Duschen trocknet das Barthaar bei Vollbärten schnell aus und wird stumpf und borstig. Hochwertiges Mandel- und Traubenkernöl versorgen deinen Bart und pflegen ihn. Der Juckreiz wird gelindert und das Wachstum angeregt.
Anwendung: Nach der Dusche oder wenn sich der Bart trocken anfühlt, einige Tropfen auf die Handflächen geben und in den Bart einarbeiten. Vergiss auch Deine Haut darunter nicht. Am besten Morgens und Abends und dein Bart bleibt geschmeidig und duftet immer frisch.
Danach mit einer Bürste oder Kamm deinen Bart gut in Form bringen.
INHALTSSTOFFE:
MANDELÖL, TRAUBENKERNÖL, RIZINUSÖL, VITAMIN E**, SONNENBLUMENÖL, BENZYLALKOHOL, DUFTSTOFFKOMPONENTE MIT NATÜRLICHEN ÄTHERISCHEN ÖLEN, LINALOOL*, LIMONENE*, CITRONELLOL*, GERANIOL*, CITRAL*;
*ENTHALTEN IN ÄTHERISCHEN ÖLEN
**AUS KONTROLLIERT BIOLOGISCHEM ANBAU; VEGAN
Brand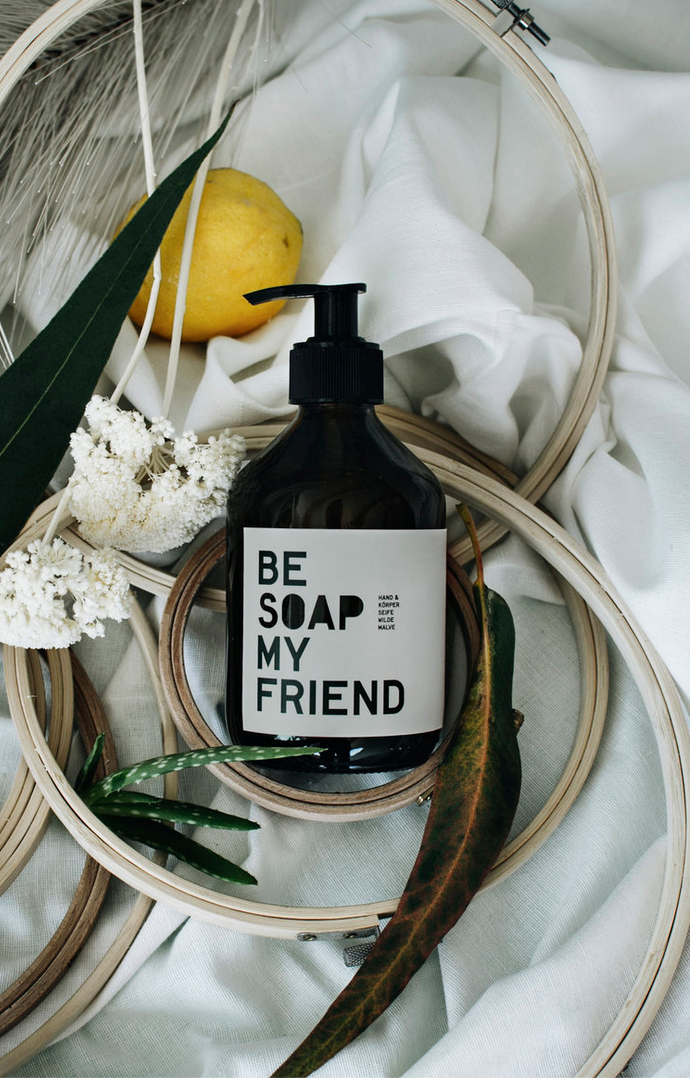 Be Soap My Friend
"Be Soap My Friend" haben es sich zum Ziel gesetzt natürliche, vegane, also rein pflanzliche Hautpflege im schönen Österreich zu produzieren. Ganz simpel und ehrlich, nur mit den reinsten biologischen Zutaten, um deine Haut maximal zu pflegen und dabei zugleich minimal zu belasten. Dabei sind ihnen zwei Dinge unglaublich wichtig: Deine Haut und der Umgang mit unserer Umwelt. Die Konzentration auf das Wesentliche steht bei der Marke im Mittelpunkt: wenige sehr hochwertige traditionelle und rein natürliche Wirkstoffe werden zu multifuntionellen Kombi-Produkten gemischt, die dank ihrer einzigartigen und besten Qualität alle Bedürfnisse der modernen und minimalistischen Körper- und Gesichtspflege erfüllen, ohne das Badezimmer unnötig voll zu stellen.
Kombi-Produkte bedeutet bei "Be Soap My Friend": Die Seife wird gleichzeitig zum Duschgel und die Body Lotion ist auch eine Handcreme. Das Peeling verwähnt die Haut mit uraltem Steinsalz aus Bad Ausee und eignet sich zugleich wunderbar als wohltuender und entspannender Badezusatz. Der Lippen Balsam dient im Winter zusätzlich als Kälteschutz für Wangen und Nase, während das spezielle Bartshampoo auch zur Reinigung von Gesicht und als Rasierseife verwendet werden kann. So gönnt man sich maximale Pflege bei minimalem Aufwand und zugleich schickem Design. Denn Nachhaltigkeit fängt schon bei der Anzahl der einzelnen Produkte, die man besitzt an.
"Be Soap My Friend" setzt auf eine REssourcenschonende, nachhaltige Produktion in Österreich mit solzialer Verantwortung, gänzlich natürliche Rohstoffe und selbstverständlich verwenden sie nur recycle- und widerbefüllbare Verpackungen. Denn ein Seifenspender kann zur Vase umfunktioniert werden und eine Teedose und ein Creme Tigel verwandelt sich in Vorratsbehälter für allerlei Kleinigkeiten im Alltag. In der Hautpflege findest du nur Pflanzen aus höchster Bio Qualität, wunderbar duftende, hochwertige Öle und viele weitere natürliche Inhaltsstoffe wie Malve, Sheabutter und Holunderblüte, Sonnenblumen- und Traubenkernöl und vieles mehr. Alle Pflegeprodukte sind selbstverständlich frei von Farbstoffen, Parabenen, Mineralöl, Aluminium, Silikonen, Weichmachern, Formaldehyd und PEGs und natürlich strikt ohne Tierversuche - denn um sich zu pflegen braucht man keine Chemie, sondern nur die simpelsten, dafür besten Zutaten.
EN: Be (…) my friend is an Austrian vegan cosmetics brand that offers a large variety of soaps and cosmetics products for the whole family. Their goal? To offer locally produced cosmetics, made from organic products only such as oils and plants and packaged in containers made from recycled glass. More than just being eco-friendly, the products from Be (…) my friend are multifunctional. For instance, their soap can be used to wash your hands in the kitchen as well as a shower gel. What more could we ask for? Discover the latest beauty products from brand Be (…) my friend online.