Banana Shampoo Bar with Jojoba Oil
SKU
SHM.NOR.BANANA.NORMAL.HAIR
Labels
Made in Europa
Sustainable
Fair
Organic
Small producer

Made from a base of fresh nutrient rich banana fruit (Fair Traded and organic), blended with hydrating butters and jojoba seed oil.
This nourishing mix helps:
• strengthen roots (potassium strengthens and helps maintain healthy follicles)
• soften hair and protect elasticity (proteins help repair hair, add thickness & bounce; protein deficiency can cause hair to thin).
• heal dry scalp (vitamin A hydrates scalp by restoring lost moisture which helps repair & improve growth)
Hergestellt auf der Basis von frischen, nährstoffreichen Bananenfrüchten (Fair Traded und Bio), vermischt mit hydratisierenden Buttern und Jojobasamenöl. Diese nährende Mischung hilft: - Stärkung der Wurzeln (Kalium stärkt und hilft, gesunde Follikel zu erhalten) - das Haar weich machen und die Elastizität schützen (Proteine helfen, das Haar zu reparieren, fügen Dicke und Sprungkraft hinzu; Proteinmangel kann dazu führen, dass das Haar dünn wird). - heilen trockene Kopfhaut (Vitamin A hydratisiert die Kopfhaut, indem es verlorene Feuchtigkeit zurückgibt, was zur Reparatur und Verbesserung des Wachstums beiträgt).
Brand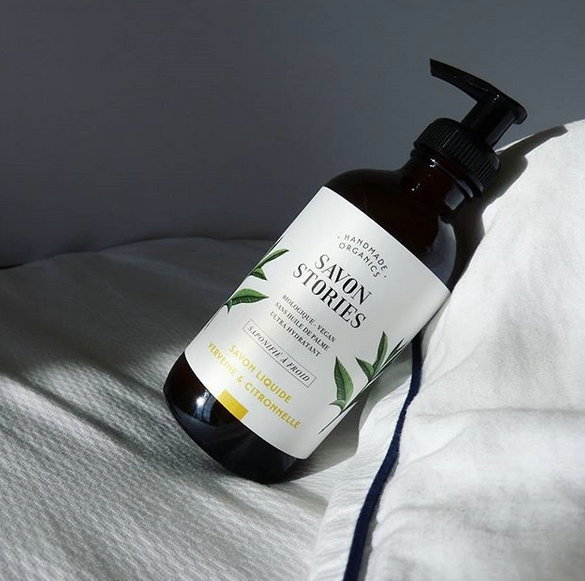 Savon Stories
"nurture the best of good green earth & to be rich with less than more. We call it "raw minimalism" and it defines everything we do. "

Handgemachte, biologische Kosmetik hergestellt in Surrey, England.
Savon Stories ist der Ansicht, unsere Haut sei unser zweiter Magen. Aus reichhaltigen, rohen, rein natürlichen und kaum veränderten Zutaten stellen sie ihre mehrfach ausgezeichneten Produkte her.
Eines unserer Lieblingsprodukte ist die "Bodylotion Bar". Sie hat die Konsistenz einer Seife, verteilt sich aber wunderbar, wenn sie aufgetragen wird. Und am Security-Check am Flughafen geht sie locker im Handgepäck durch, da sie keine Flüssigkeit enthält.

Aber auch das Arganöl oder die Rassoul-Tonerde möchten wir in unserem Badezimmer nicht mehr missen.
"nurture the best of good green earth & to be rich with less than more. We call it "raw minimalism" and it defines everything we do. "
Handmade, organic cosmetics made in Surrey, England.
Savon Stories believes our skin is our second stomach. From rich, raw, purely natural and hardly changed ingredients, they produce their multi-award winning products.One of our favorite products is the "Body Lotion Bar". It has the consistency of a soap, but spreads wonderfully when applied. And at the security check at the airport, it easily gets through in the hand luggage as it does not contain any liquid.But we also do not want to miss the argan oil or the rassoul clay in our bathroom.
Erhältlich bei:
Kitchener Bern
Kitchener Plus Zürich