Astorflex Boatflex Leather Bruciato Shoes Mens
SKU
BOATFLEX.LEATHER_Braun_470-BRUCIATO

Made in Italy since the 1800's, Astorflex is a company that uses ecological and sustainable methods to create the finest of footwear for the finest of folk to wear. Run by the founder's great, great grandson, Fabio Travenzoli, the company uses vegetable tanned leather which comes from master tanneries in Tuscany, to create products such as the Boatflex, modelled on a classic silhouette.
These shoes are made from a premium leather, constructed in Italy with a signature moccasin style toe box and leather lacing around the sides through metallic eyelets. The shoe has a suede lining and a moulded insole for comfort. The outsole is made from a rubber crepe which is durable, grippy and shock-absorbant. Branding is simple and clean with an embossed logo script along the tongue.
-Tanned leather uppers
-Rubber crepe outsole
-Moulded leather insole
-Leather side lacing
-Embossed tongue logo
-Stitched moccasin toe
Astorflex ist ein Unternehmen, das seit 1800 in Italien hergestellt wird und ökologische und nachhaltige Methoden anwendet, um die feinsten Schuhe für die feinsten Leute herzustellen. Das von Fabio Travenzoli, dem Ur-Ur-Enkel des Gründers, geleitete Unternehmen verwendet pflanzlich gegerbtes Leder, das aus Gerberei-Meisterbetrieben in der Toskana stammt, um Produkte wie den Boatflex nach dem Vorbild einer klassischen Silhouette herzustellen.
Diese Schuhe werden aus einem Premium-Leder hergestellt, das in Italien hergestellt wird, mit einem charakteristischen Zehenkasten im Mokassinstil und Lederschnürung an den Seiten durch Metallösen. Der Schuh hat ein Wildlederfutter und eine geformte Innensohle für mehr Komfort. Die Laufsohle besteht aus einem Gummikrepp, der haltbar, griffig und stoßdämpfend ist. Das Branding ist einfach und sauber mit einem geprägten Logo-Schriftzug entlang der Zunge.
-Obermaterial aus gegerbtem Leder
-Gummi-Kreppsohle
-Geformte Ledereinlegesohle
-Seitenschnürung aus Leder
-Geprägtes Zungen-Logo
-Genähte Mokassin-Zehen
Brand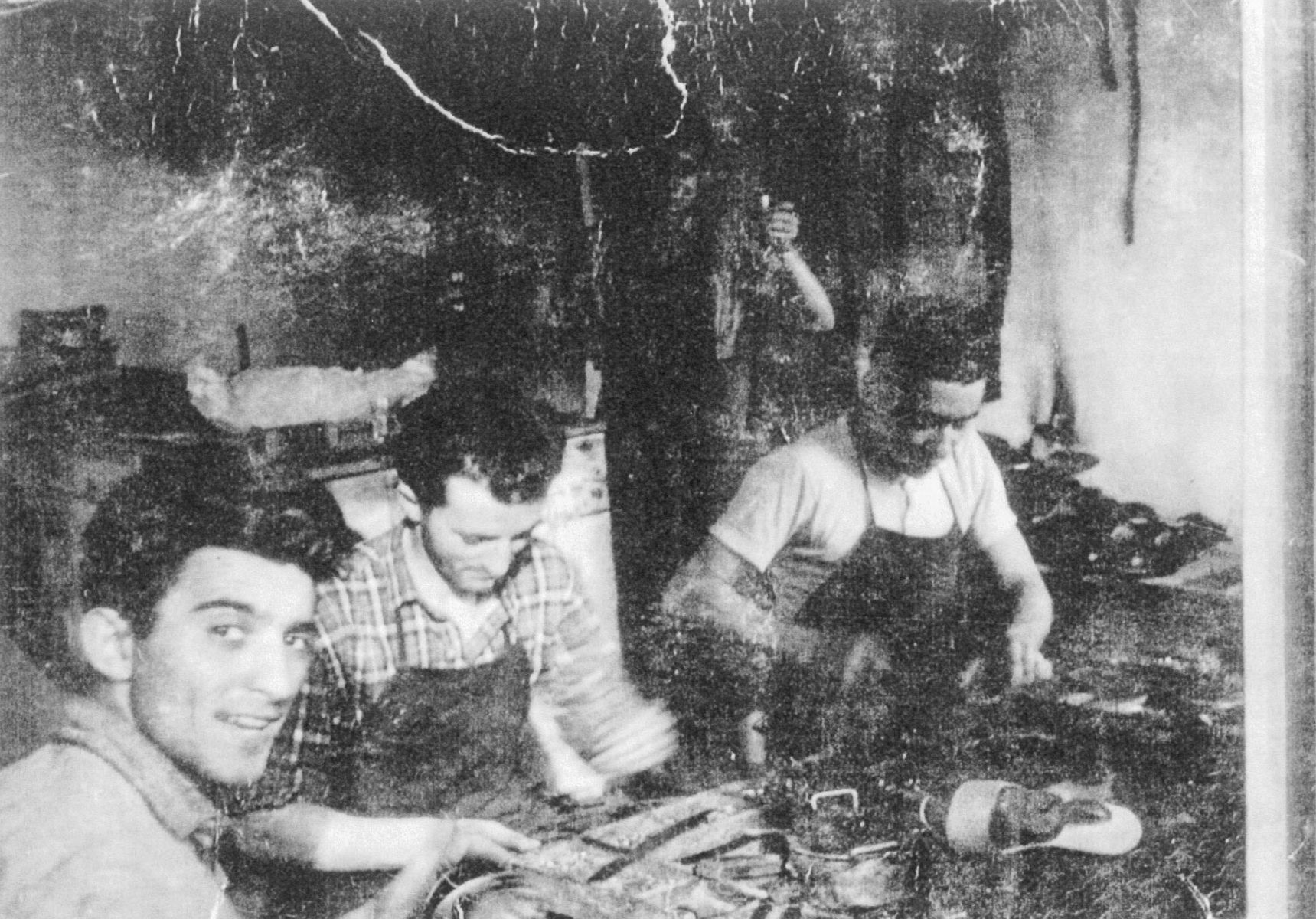 Astorflex
(EN) The company production process now also includes new manufacturing methods implemented with a responsible, transparent and, as far as possible, sustainable approach ongoing research into new materials and the study/design of ever-topical models now also involve the collaboration of famous designers. All Astorflex models are designed and developed to a be comfortable: above all they are flexible, soft and quickly adapt to the user's feet. We employ italian leather for the upper shoe, in particular leather coming from master tanneries in tuscany. The lining and insoles are in vegetable-tanned calf leather, obtained by soaking the leather in a mixture of water and powdered oak bark and mimosa, without using dies or color finishes. This process makes the leather healthier, htpoallergenic and guarantees greater sweat absortion for dry, odourless feet. Most of our soles are in natural rubber consisting in coagulated latex from the rubber tree (hevea brasilianis). The various shoe parts are assembled using water-based adhesives.
(DE) Der Produktionsprozess des Unternehmens umfasst nun auch neue Herstellungsmethoden, die mit einem verantwortungsbewussten, transparenten und möglichst nachhaltigen Ansatz umgesetzt werden. Die laufende Forschung nach neuen Materialien und das Studium/Design von immer wieder aktuellen Modellen erfolgt nun auch in Zusammenarbeit mit berühmten Designern.
Alle Astorflex-Modelle sind so konzipiert und entwickelt, dass sie bequem sind: sie sind vor allem flexibel, weich und passen sich schnell an die Füße des Benutzers an. Für den Oberschuh verwenden wir italienisches Leder, insbesondere Leder, das von Gerbermeistern aus der Toskana stammt.
Das Futter und die Einlegesohlen bestehen aus pflanzlich gegerbtem Kalbsleder, das durch Einweichen des Leders in einer Mischung aus Wasser und pulverisierter Eichenrinde und Mimose gewonnen wird, ohne Verwendung von Stanzen oder Farbbehandlungen. Dieser Prozess macht das Leder gesünder, htpoallergener und garantiert eine bessere Schweißabsorption für trockene, geruchlose Füße. Die meisten unserer Sohlen bestehen aus Naturkautschuk, der aus koaguliertem Latex vom Kautschukbaum (Hevea brasilianis) besteht. Die verschiedenen Schuhteile werden mit Klebstoffen auf Wasserbasis zusammengefügt.