Anglepoise Type 75 Desk Lamp - Silver Lustre
Niedriger Bestand
SKU
32573.TYPE.75.DESK.LAMP
- Shade diameter: 14cm
- Shade height: 19.2cm
- Max reach: 66cm (from base to shade)
- Base diameter: 19.5cm
- Cable length: 270cm
- Durchmesser des Schirms: 14cm
- Höhe des Schirms: 19,2 cm
- Maximale Reichweite: 66cm (vom Sockel bis zum Schirm)
- Durchmesser des Sockels: 19,5 cm
- Kabellänge: 270cm
A vintage desk lamp design with a contemporary brushed aluminium finish,
the Type 75 Desk Lamp in Silver Lustre boasts functionality
and practicality in this chic, modernist desk lamp.
Inspired by the Anglepoise Apex 90 and designed by Sir Kenneth Grange,
the Type 75, originally launched in the 1950's but is still relevant today.
Grange reinterprets the modernist lines and no-frills functionality of its predecessor
for new generations with the perfect balance between vintage design with contemporary style.
- Brushed aluminium finish
- Aluminium shade & arms
- Integrated shade switch
- Chrome plated fittings
- Cast iron base with aluminium cover
- Anglepoise® constant tension spring technology
***
Ein klassisches Design für eine Schreibtischlampe mit einer modernen Oberfläche aus gebürstetem Aluminium,
Die Type 75 Desk Lamp in Silver Lustre besticht durch Funktionalität
und Zweckmäßigkeit in dieser schicken, modernistischen Schreibtischlampe.
Inspiriert von der Anglepoise Apex 90 und entworfen von Sir Kenneth Grange,
die Type 75, die ursprünglich in den 1950er Jahren auf den Markt kam, aber auch heute noch aktuell ist.
Grange interpretiert die modernistischen Linien und die schnörkellose Funktionalität ihrer Vorgängerin neu
für neue Generationen mit der perfekten Balance zwischen Vintage-Design und zeitgenössischem Stil.
- Brushed aluminium finish
- Schirm und Arme aus Aluminium
- Integrierter Schalter für den Schirm
- Verchromte Beschläge
- Sockel aus Gusseisen mit Aluminiumabdeckung
- Anglepoise®-Federtechnik mit konstanter Spannung
Brand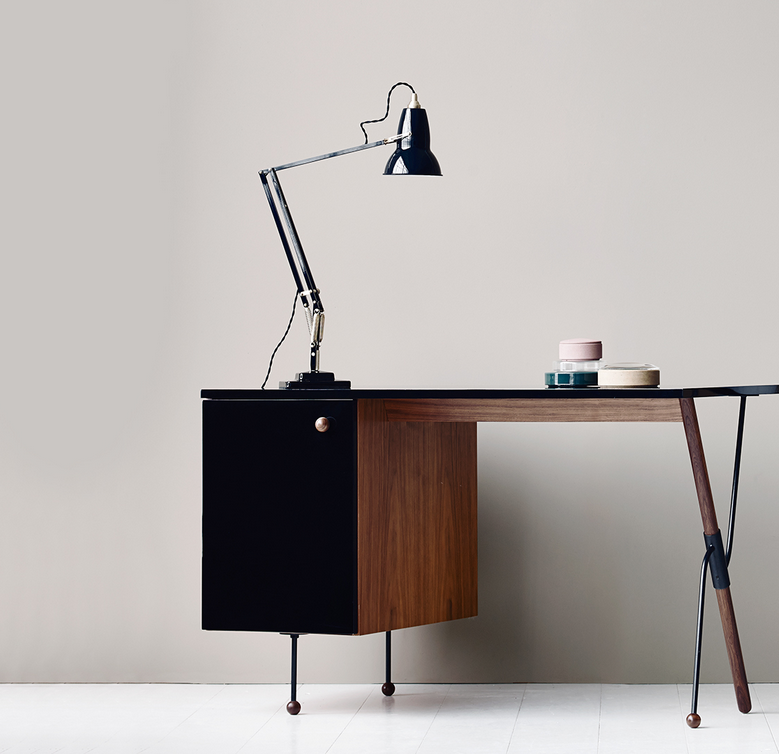 Anglepoise
Den britische Leuchtenhersteller Anglepoise kennt man vor allem für seine kultige dreifedrige Lampe mit Gelenkarm . Anglepoise startete direkt als Ikone im britischen Design; mit seiner gleichnamigen Lampe als revolutionäres Design, das Wohn- und Arbeitszimmer britischer Wohnungen und Büros durch das ganze zwanzigste Jahrhundert hinweg schmückte.1931 entwickelte der selbstständige Ingenieur George Carwardine (1887 - 1947) ein theoretisches Konzept zur Messung von Gewicht mit Federn, Kurbeln und Hebelarmen.
EN: Timeless British Brand. In 1932, when vehicle suspension engineer George Carwardine invented a spring, crank and lever mechanism that could be positioned with the lightest of touch yet would maintain its position once released, a blueprint for the first Anglepoise task lamp was born.
The Anglepoise lamp has subsequently achieved iconic status and its engaging, anthropomorphic form is recognised and admired all around the world.
Over the years, the Anglepoise lamp has been developed under the careful watch of the founding Terry family, without ever losing sight of its primary function, and unique, characterful form. From the creation of the Original 1227™ lamp, to the development of extended collections by esteemed industrial product designer Sir Kenneth Grange, to recent collaborations with renowned designers Paul Smith and Margaret Howell, incomparable British design remains at the heart of this progressive British brand. Today, Anglepoise lamps can be found today in homes and of offices, restaurants, bars and hotels in more than 50 countries.