Anglepoise 90 Mini Mini Desk Lamp - Biscuit Beige
Niedriger Bestand
SKU
33140.T75.90.MINI.MINI.DESK_Beige
- Shade Diameter: 9.2 cm
- Shade Height: 12.7 cm
- Max Reach: 52 cm (From Base To Shade)
- Base Diameter: 12 cm
- Cable Length: 150 cm
- Durchmesser des Schirms: 9,2 cm
- Höhe des Schirms: 12,7 cm
- Maximale Reichweite: 52 cm (vom Sockel bis zum Schirm)
- Sockel-Durchmesser: 12 cm
- Kabellänge: 150 cm
Offspring of the ever-popular 1970's Model 90,
the 90 Mini Mini has all the versatility and personality of a
classic Anglepoise® lamp wrapped up in its tiny form.
At half the size of a standard desk lamp it's designed to fit just about anywhere
- perfect for desks, bedsides and reading nooks everywhere.
With a satin painted finish, the 90 Mini Mini in Biscuit Beige is a new colour for 2021.
This perfect neutral colour makes it the ideal lamp whatever you are doing:
use it to illuminate a book, a corner or even a favourite painting.
The 90 Mini Mini is has a USB plug and has a dimmable integrated LED
for focused light for up to 20,000 hours.
- Supplied With USB-A To Micro USB Cable & Adapter
- Anodised Brushed Aluminium Finish
- Aluminium Shade And Arms
- Chrome Plated And Polycarbonate Fittings
- Cast Iron Base With Aluminium Cover
- Integrated Led Bulb With Dimming
***
Der Nachkomme des beliebten Modells 90 aus den 1970er Jahren,
hat die 90 Mini Mini die ganze Vielseitigkeit und Persönlichkeit einer
klassischen Anglepoise®-Lampe in ihrer winzigen Form.
Sie ist nur halb so groß wie eine Standard-Schreibtischlampe und findet überall Platz
- perfekt für Schreibtische, Nachttische und Leseecken überall.
Die satinierte 90 Mini Mini in Biscuit Beige ist eine neue Farbe für 2021.
Diese perfekte, neutrale Farbe macht sie zur idealen Leuchte, egal was Sie gerade tun:
Verwenden Sie sie, um ein Buch, eine Ecke oder sogar Ihr Lieblingsbild zu beleuchten.
Die 90 Mini Mini ist mit einem USB-Stecker ausgestattet und verfügt über eine dimmbare integrierte LED
für fokussiertes Licht für bis zu 20.000 Stunden.
- Lieferung mit USB-A-auf-Micro-USB-Kabel und Adapter
- Eloxierte Oberfläche aus gebürstetem Aluminium
- Schirm und Arme aus Aluminium
- Verchromte Beschläge und Polycarbonat
- Sockel aus Gusseisen mit Aluminiumabdeckung
- Integrierte Led-Lampe mit Dimmer
Brand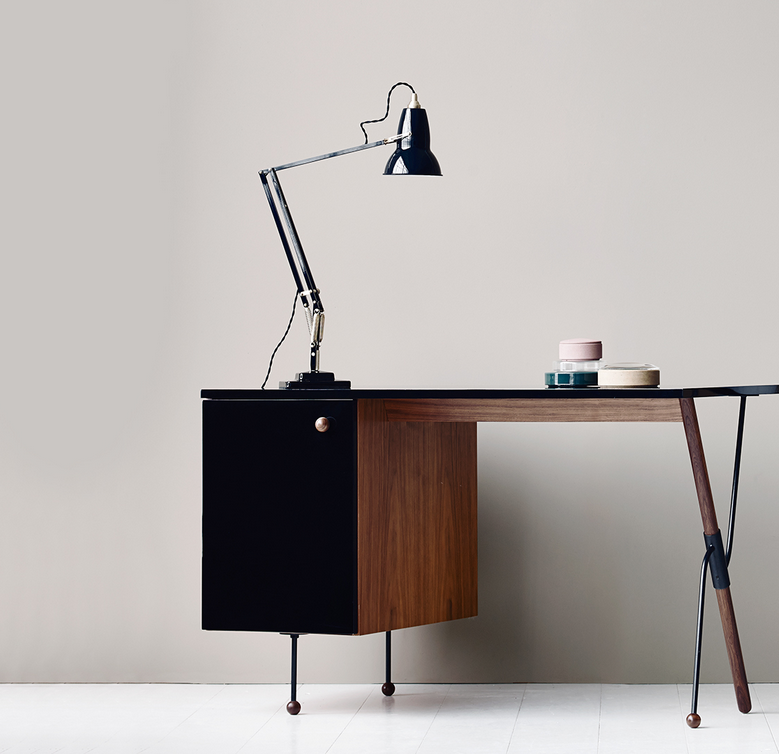 Anglepoise
Den britische Leuchtenhersteller Anglepoise kennt man vor allem für seine kultige dreifedrige Lampe mit Gelenkarm . Anglepoise startete direkt als Ikone im britischen Design; mit seiner gleichnamigen Lampe als revolutionäres Design, das Wohn- und Arbeitszimmer britischer Wohnungen und Büros durch das ganze zwanzigste Jahrhundert hinweg schmückte.1931 entwickelte der selbstständige Ingenieur George Carwardine (1887 - 1947) ein theoretisches Konzept zur Messung von Gewicht mit Federn, Kurbeln und Hebelarmen.
EN: Timeless British Brand. In 1932, when vehicle suspension engineer George Carwardine invented a spring, crank and lever mechanism that could be positioned with the lightest of touch yet would maintain its position once released, a blueprint for the first Anglepoise task lamp was born.
The Anglepoise lamp has subsequently achieved iconic status and its engaging, anthropomorphic form is recognised and admired all around the world.
Over the years, the Anglepoise lamp has been developed under the careful watch of the founding Terry family, without ever losing sight of its primary function, and unique, characterful form. From the creation of the Original 1227™ lamp, to the development of extended collections by esteemed industrial product designer Sir Kenneth Grange, to recent collaborations with renowned designers Paul Smith and Margaret Howell, incomparable British design remains at the heart of this progressive British brand. Today, Anglepoise lamps can be found today in homes and of offices, restaurants, bars and hotels in more than 50 countries.