Anglepoise Type 75 Mini Table Lamp Turmaric Gold
SKU
33029.TYPE.75.MINI.TABLE.LAMP_Gold
The Type 75 Mini Table Lamp takes the original Type 75 design in a new direction.
Simplified in scope, with greater articulation and range of movement within the shade,
it is an ideal light for anywhere that a smaller, neater profile is preferred.
The lamp has brushed aluminium features, and also features a large, ergonomically-designed On/Off switch,
while the signature range light escape provides a decorative light spill from the top of the shade.
Supplied with bulb.
Materials:
- Matt paint finish
- Aluminium shade and base cover
- Brushed aluminium fittings
- Cast iron base
- IP20 rating
Dimensions:
- Shade diameter: 13cm
- Shade height: 15cm
- Base size: 15 x 15cm
- Cable length: 180cm
- Supplied with 6W LED E27 Bulb
***
Die Type 75 Mini Tischleuchte führt das ursprüngliche Type 75 Design in eine neue Richtung.
Vereinfacht im Umfang, mit größerer Beweglichkeit und Bewegungsfreiheit innerhalb des Schirms,
Sie ist die ideale Leuchte für alle Orte, an denen ein kleineres, übersichtlicheres Profil gewünscht wird.
Die Leuchte ist aus gebürstetem Aluminium gefertigt und verfügt über einen großen, ergonomisch geformten Ein/Aus-Schalter,
Die charakteristische Lichtaustrittsöffnung sorgt für einen dekorativen Lichtaustritt aus dem oberen Teil des Schirms.
Wird mit Glühbirne geliefert.
Materialien:
- Matt lackierte Oberfläche
- Schirm und Sockelabdeckung aus Aluminium
- Gebürstete Aluminiumbeschläge
- Sockel aus Gusseisen
- Schutzart IP20
Abmessungen:
- Durchmesser des Schirms: 13cm
- Höhe des Schirms: 15 cm
- Größe des Sockels: 15 x 15 cm
- Kabellänge: 180cm
- Geliefert mit 6W LED E27 Glühbirne
Brand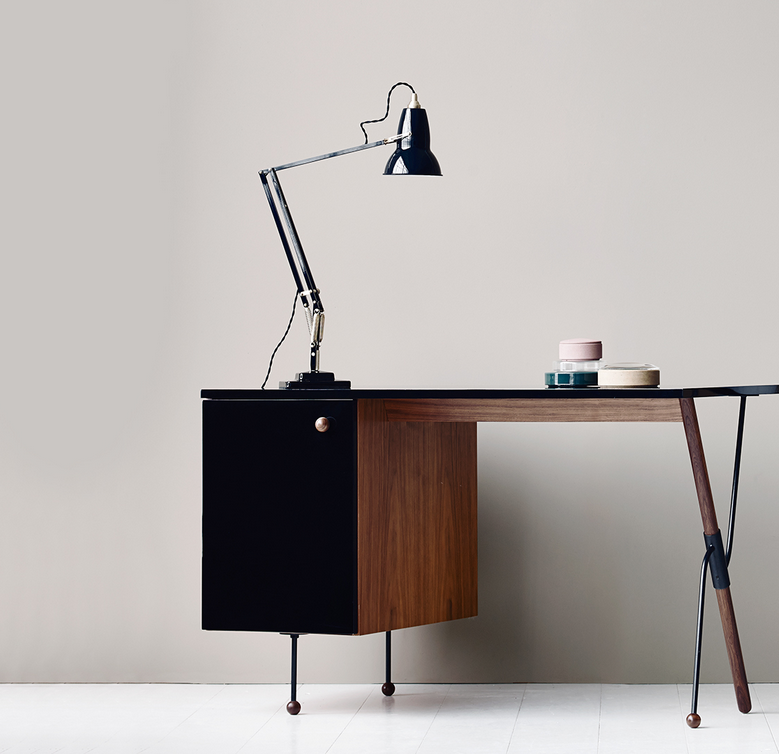 Anglepoise
Den britische Leuchtenhersteller Anglepoise kennt man vor allem für seine kultige dreifedrige Lampe mit Gelenkarm . Anglepoise startete direkt als Ikone im britischen Design; mit seiner gleichnamigen Lampe als revolutionäres Design, das Wohn- und Arbeitszimmer britischer Wohnungen und Büros durch das ganze zwanzigste Jahrhundert hinweg schmückte.1931 entwickelte der selbstständige Ingenieur George Carwardine (1887 - 1947) ein theoretisches Konzept zur Messung von Gewicht mit Federn, Kurbeln und Hebelarmen.
EN: Timeless British Brand. In 1932, when vehicle suspension engineer George Carwardine invented a spring, crank and lever mechanism that could be positioned with the lightest of touch yet would maintain its position once released, a blueprint for the first Anglepoise task lamp was born.
The Anglepoise lamp has subsequently achieved iconic status and its engaging, anthropomorphic form is recognised and admired all around the world.
Over the years, the Anglepoise lamp has been developed under the careful watch of the founding Terry family, without ever losing sight of its primary function, and unique, characterful form. From the creation of the Original 1227™ lamp, to the development of extended collections by esteemed industrial product designer Sir Kenneth Grange, to recent collaborations with renowned designers Paul Smith and Margaret Howell, incomparable British design remains at the heart of this progressive British brand. Today, Anglepoise lamps can be found today in homes and of offices, restaurants, bars and hotels in more than 50 countries.