Lightweight and waterproof packsacks with roll-top closure.
Made of durable and pliable PU coated taffeta nylon with
10,000mm water column and fully taped seams for waterproof performance.
Bright inner PU coating lights up the interior
of the bags for excellent overview of contents.
Quick release buckle and grab handle
Volumen: 22 l
22 l Size (closed): 51 × 26 × 19 cm
Weight: 74 g
Closure: Roll-top-closure with quick release buckle
Water Resistance: Waterproof
Durability: Regular
Organization and overview made simple: keeps gear dry and clean
70 D Taffeta nylon, PU coated, 10'000 mm water column, Oeko-Tex 100 certifed .
The sealed roll-top closure can also be used as grab handle
or as a hook loop (i.e to hook onto a branch or similar).
Waterproof also means reliable protection against sand, dust, dirt or bugs.
Ideal waterproof protection and organization in bicycle panniers.
Separate dirty laudry from the clean on long trips
Leichte Falt-Packsäcke, die absolut dicht halten.
Aus weichem, dauerhaftem, PU-beschichtetem Taffetanylon
mit 10'000 mm Wassersäule und hellgrauer Innenbeschichtung für beste Übersicht.
Ein Blitzverschluss und der Boden-Handgriff
erleichtern das Handling.
Volumen: 22 l
Grösse: 51 × 26 × 19 cm
Gewicht: 74 g
Verschlussystem: Rollverschluss mit Steckschnallen/Blitzverschluss
Wasserfestigkeit: Wasserdicht
Robustheit: Standard

Wasserdichte Organisation im Rucksack/Reisetasche, Outdoor allgemein
70 D Taffeta Nylon, PU beschichtet, 10'000 mm Wassersäule, Oeko-Tex 100 zertifiziert
Organisation und Übersicht einfach gemacht:
im Zelt oder Biwak kann Ausrüstung vor Kondenswasser oder schlechter Witterung geschützt werden.
Der regendicht abdichtende Rollverschluss ist zugleich als Tragegriff
oder praktische Aufhängehilfe (z.B. an einem Ast) zu gebrauchen.
Grössere Fold Drybags haben sogar als mobile Waschmaschinen gedient
(Bekleidung mit Wasser und Waschmittel in Fold Drybag, dann schütteln!)
Ideal, um nicht wasserdichte Fahrradtaschen mit System zu organisieren.
Auf langen Touren kann die stinkige Wäsche von der sauberen getrennt werden.
Brand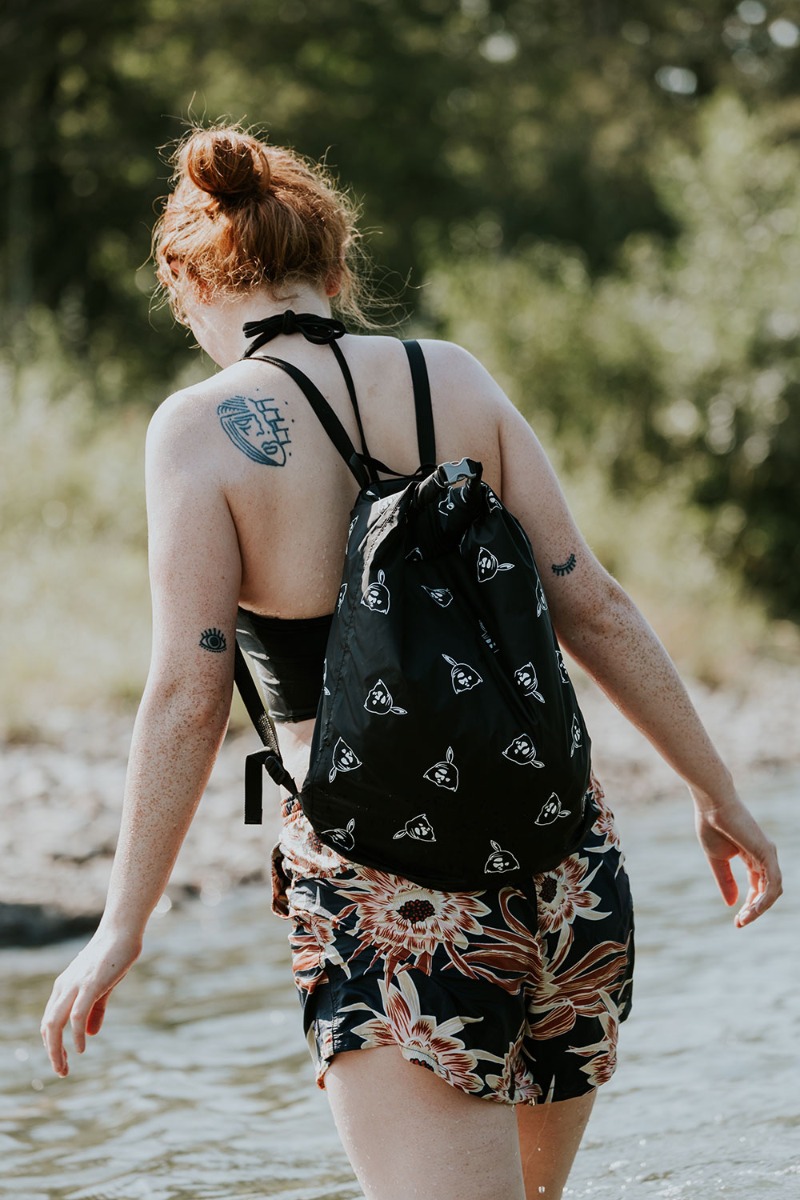 Aarebags by Kitchener
As a Bernese company, the river flows through our lives like the Aare flows through the city.
As small children we learn to swim in the river. Endless summers in the Lorrainebad, night swimming and boating as teenagers, surfing at the Altenbergsteg, illegal parties by the river.... It felt only natural to produce our legendary Kitchenerbag in a waterproof design.
But at that time the technology wasn't quite where it is today, so creating a waterproof bag with straps wasn't easy. However, around 2009 we launched the first Aaarebag - a very small waterproof backpack featuring one of our favourite designs - Buro Destruct's polar bear - and, of course, a large scale print of our beloved Indian.
The bags were fun and waterproof, but far from practical - too small and the strap would keep twisting and turning. Back then it was just impossible to alter the strap's fixation and eventually the production of the Aarebag had to be discontinued.
The summer of the year 2012 was particularly long and hot, and every now and then we would meet with the Buro Destruct crew in the Aare.
From the Matte Quartier they would swim down the river where we would all hop on the Altenbergsteg. Together we would head to the Lorraine pool where we would eat french fries and talk about t-shirt designs, life and the hot weather.
During one of these lunches we decided to give the Aarebags another go. But instead of recreating the complicated backpacks, we opted for a simple rolltop bag, like other companies offer - large enough to pack all your stuff and maybe even your laptop.
Since Lopetz from Buro Destruct loves to work at the pool, we knew that we wanted our bag to be light weight in order to bring it anytime, anywhere, allowing us to jump into the river spontaneously whenever temperatures would soar.
Swimming in the Aare (and any other river) is fun, refreshing, gives a sense of freedom and "joie de vivre". This is what the Aarebag should resemble. Of course you can float down the river like a living advertisement, but that's not what we believe in. We believe in good design instead of great branding. The products you are wearing and carrying are primarily meant to make you feel good and not to turn you into an walking - or in this case - swimming advertisement.
That's why we relaunched the Aarebag in 2013 - the rest is history. Over the last 5 years countless people have been floating down the river with our sea creatures.
We love the simplicity of the roll top bag, it doesn't take up much space in the handbag, no straps that tangle up and with its 80 grams it is a total lightweight. But we realized that there are times when it is convenient to have your hands free. Like while cycling to the river or while eating ice cream. Adding fix straps to the bags was not an option, as it would make the bag too complex and expensive. So we came up with the idea of a clip-on strap.
The neat thing of this concept is that the strap can be used for all kinds of bags. There are 15 colours to choose from for mixing and matching. In 2018 the waterproof Kitchenerbag - the Splash - was introduced. The new technology has finally made it possible to create a functional backpack.