Lightweight and waterproof packsacks with roll-top closure.
Made of durable and pliable PU coated taffeta nylon with 10,000mm water column and fully taped seams for waterproof performance.
Bright inner PU coating lights up the interior of the bags for excellent overview of contents.
Quick release buckle and grab handle
22 l Size (closed): 51 × 26 × 19 cm
Weight: 74 g
Closure: Roll-top-closure with quick release buckle
Water Resistance: Waterproof
Durability: Regular
70 D Taffeta nylon, PU coated, 10'000 mm water column, Oeko-Tex 100 certifed .
Riverswimming
Organization and overview made simple: keeps gear dry and clean
The sealed roll-top closure can also be used as grab handle or as a hook loop (i.e to hook onto a branch or similar).
Waterproof also means reliable protection against sand, dust, dirt or bugs.
Ideal waterproof protection and organization in bicycle panniers.
Separate dirty laudry from the clean on long trips
Leichte Falt-Packsäcke, die absolut dicht halten. Aus weichem, dauerhaftem, PU-beschichtetem Taffetanylon mit 10'000 mm Wassersäule und hellgrauer Innenbeschichtung für beste Übersicht. Ein Blitzverschluss und der Boden-Handgriff erleichtern das Handling.
Volumen:

22 l
Grösse: 51 × 26 × 19 cm
Gewicht: 74 g
Verschlussystem: Rollverschluss mit Steckschnallen/Blitzverschluss
Wasserfestigkeit: Wasserdicht
Robustheit: Standard
Einsatzbereich:
Wasserdichte Organisation im Rucksack/Reisetasche, Outdoor allgemein
70 D Taffeta Nylon, PU beschichtet, 10'000 mm Wassersäule, Oeko-Tex 100 zertifiziert
Flussschwimmen
Organisation und Übersicht einfach gemacht: im Zelt oder Biwak kann Ausrüstung vor Kondenswasser oder schlechter Witterung geschützt werden.
Der regendicht abdichtende Rollverschluss ist zugleich als Tragegriff oder praktische Aufhängehilfe (z.B. an einem Ast) zu gebrauchen.
Grössere Fold Drybags haben sogar als mobile Waschmaschinen gedient (Bekleidung mit Wasser und Waschmittel in Fold Drybag, dann schütteln!)
Ideal, um nicht wasserdichte Fahrradtaschen mit System zu organisieren.
Auf langen Touren kann die stinkige Wäsche von der sauberen getrennt werden.
Brand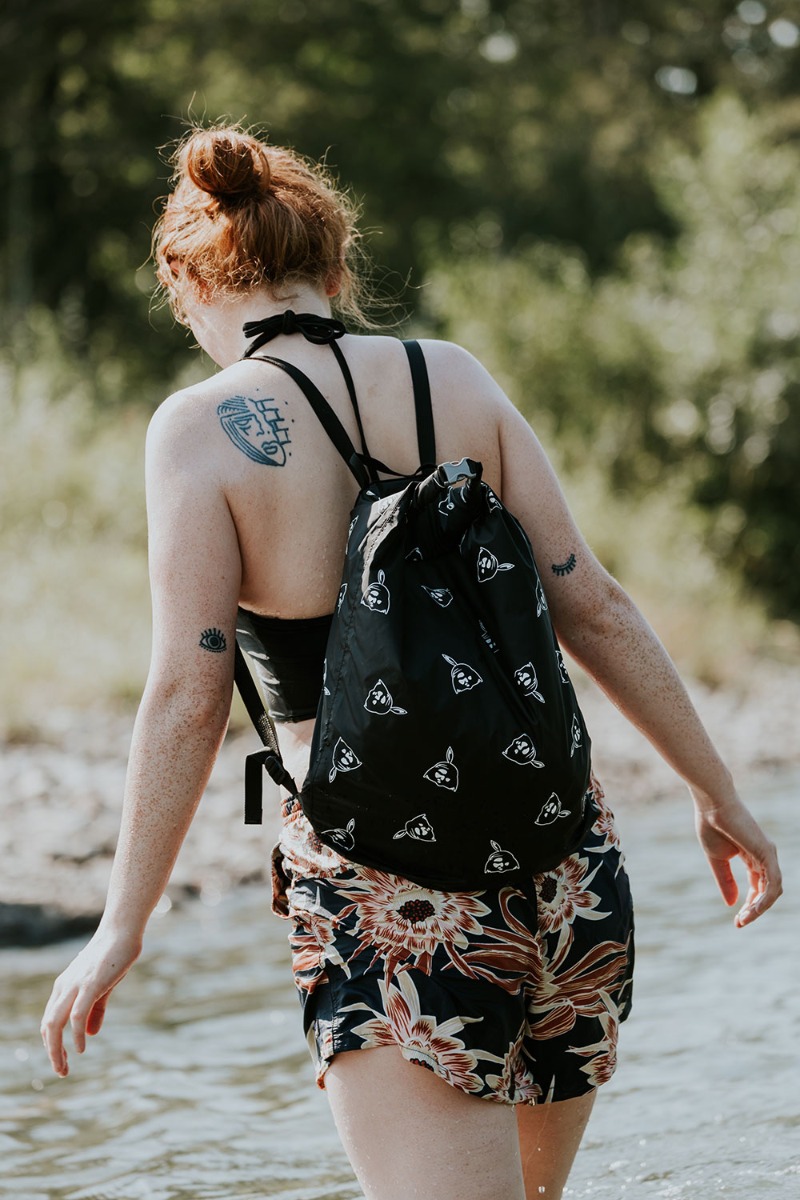 Aarebags
Being a Bernese company the river runs through our lives like the river Aare runs through the city. We learn to swim in the river as little kids, endless summers spent in the Lorrainebad, night swimming and boating as teenagers, surfing at the Altenbergsteg, illegal parties down be the river … So trying to make our legendary Kitchenerbag in a waterproof version seamed only logical. But back then technology wasn't quite where it is now so producing waterproof bag with straps was not easy. But around 2009 we brought the first Aaarebag to the market - a very small waterproof backpack with one of our favourite designs - the Buro Destruct polar bear on it and of course a version with a big Indian print on it. They were fun and waterproof but far from practical, too small and the strap kept moving. Back then it was impossible to change the way the strap was attached and so we discontinued the bags. 2012 was a particularly long and hot summer, every so often we would meet up with the Buro Destruct crew in the Aare. They came floating down the Aare from the Matte neighbourhood and we hoped in at the Altenbergsteg. Together we would drift to the Lorraine pool where we would eat french fries and talk about t-shirt designs, live and the hot weather. At one of these lunches we decided to give the bags another go. But instead of making the complicated backpacks again we decided to go for a simple roll top bag like other companies were doing, big enough so you could carry all your belongings and maybe your laptop. Since Lopetz from Buro Destruct loves to work by the pool. We knew we wanted our bag to be light so one can always carry them along, and spontaneously hop into the river when it gets to hot. Swimming in the Aare ( and in any other river ) is fun, "joie de vivre", refreshing and a bit of freedom. That's what we wanted them to look like. Of course you can float down the river like and advertisement but that is not what we believe in. We believe in good design instead of big branding. The products you wear and carry should first and foremost make you feel good and not transform you into walking or in this case swimming advertisement. So in 2013 we re-launched the Aarebag - the rest is history. For the past 5 years countless people floated down the river with our sea creatures. We love the simplicity of the rolltop bag, they don't take up much space in your handbag, no straps that get mingled and a weight of 80 grams a total light weight. But we realised that there are times where it would be convenient to have your hands free. Like when you cycle to the river or cue for a gelato. Adding fix straps to the bags wasn't an option, it would make the bag too complicated and more expensive. So we came up with Idee of a clip-able strap. The beauty of this concept is that you can buy one strap and use it for all sorts of bags. Of course you could have several and mix and match colours since the come in more than 15 colours. In 2018 in re introduced the waterproof Kitchenerbag - the Splash. With the new technology it finally became possible to make the backpack in a way that was practical.