Brand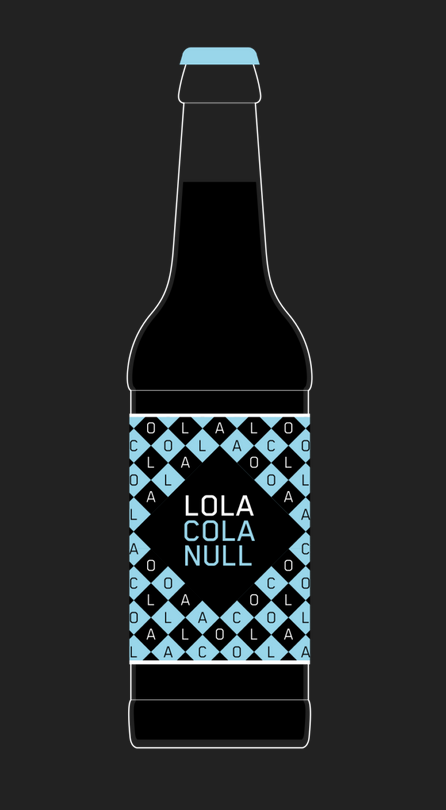 Lola Cola
Kurze Transportwege, fair gehandelter Zucker aus Costa Rica und Solarenergie - nie wurde eine Cola näher und umweltfreundliche Produziert als die von Lola. Der Vertrieb im Berner Lorraineladen wird organisiert von CONTACT – Stiftung für Suchtprobleme, welche die Gesundheit, persönliche Kompetenzen und Integration von Menschen mit Drogenabhängigkeit fördern. Bitte noch eine Lola, da liegt nämlich mehr drin als nur Durstlöschen.
EN: Short transport routes, fair traded sugar from Costa Rica and solar energy - never a coke was produced closer and more environmentally friendly than that of Lola. Sales in the Bernese Shop are organized by CONTACT - Addiction Issues Foundation, which promotes the health, personal skills and inclusion of people with drug addiction. Can I get another Lola please ? , because there is more in it than just thirst quenching.
-.30 Depot
Lola Cola convinces with its wonderfully balanced nuances of cola nut, caramel and cinnamon, a hint of herbs and the usual obligatory cola secret that does not want to be revealed.
The Lola team also spares no effort in producing the best cola in the world. Whenever possible, the ingredients come from here. If not, they are traded fairly, like cane sugar from Costa Rica. This is a central component with its round, delicate caramel taste.
Lola is the perfect cola alternative to be enjoyed pure or mixed in a cocktail. Real taste. Quite natural.

Lola Cola überzeugt mit seinen wunderbar ausgewogenen Nuancen von Kola-Nuss, Caramel und Zimt, einem Hauch von Kräutern und dem üblichen obligaten Cola-Geheimnis, das nicht verraten werden will.
Auch bei der Herstellung scheut das Lola Team keinen Aufwand, um das beste Cola der Welt zu kreieren. Wenn immer möglich stammen die Zutaten von hier. Wenn nicht, werden sie fair gehandelt, wie der Rohrzucker aus Costa Rica. Dieser ist mit seinem runden, zarten Caramellgeschmack eine zentrale Komponente.
Lola ist die perfekte Cola-Alternative um pur oder in einem Cocktail gemixt genossen zu werden. Echter Geschmack. Ganz natürlich.