18-in-1 Naturseife Rose 60ml
Labels
Made in Europa
Sustainable
Fair
Organic
Vegan
For a good cause

Duschen Sie mit der Königin der Blumen. Die Dr. Bronner's Rosenseife enthält edles, natürliches Rosenparfum. Ein intensiver Duft umhüllt Sie mit Eleganz und Wärme.
Dr. Bronner's 18-In-1 Naturseife hält was sie verspricht. Die Inhaltsstoffe sind auf biologischer Basis hergestellt, vegan und in vielen Fällen Fair Trade zertifiziert. Die Vielzahl an Anwendungen ermöglicht dir nur eine Seife im Gepäck dabei zu haben. Das spart Gewicht und Nerven, denn das Suchen nach Spülmittel, Shampoo, Seife etc. entfällt. Die Seife eignet sich aber auch ideal zum Rasieren und Duschen, als Wasch- und Spülmittel sowie zur Babypflege oder als Schaumbad.
Die verseiften Öle reinigen schonend, ohne zu fetten, und auf natürliche Weise. Sie sind frei von synthetischen Schaumbildnern, Verdickungsmitteln, Petrochemikalien und Konservierungsstoffen. Das tut nicht nur deiner Haut gut, sondern auch der Umwelt.
Take a shower with the queen of flowers. Dr. Bronner's Rose Soap contains noble, natural rose perfume. An intense fragrance envelops you with elegance and warmth.
Dr. Bronner's 18-in-1 natural soap delivers what it promises. The ingredients are organic, vegan and in many cases Fair Trade certified. The variety of applications allows you to bring only one soap with you when travelling. This saves weight and nerves, because there is no need to search for detergent, shampoo, soap etc.. The soap is also ideal for shaving and showering, as a washing up and dishwashing detergent and for baby care or as a foam bath.
The saponified oils clean gently, without greasing, and in a natural way. They are free of synthetic foaming agents, thickeners, petrochemicals and preservatives. This is not only good for your skin but also for the environment.
Brand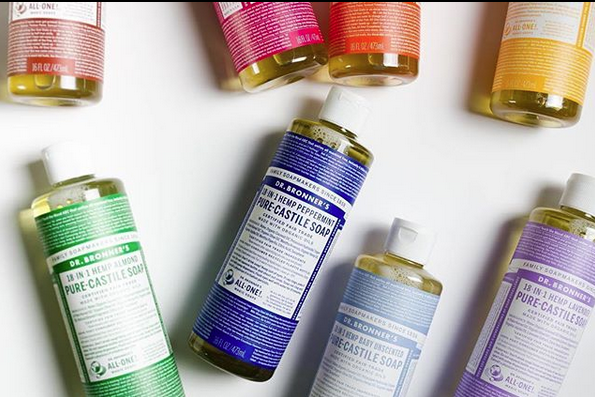 Dr Bronner
Sisters & Brothers of Spaceship Earth! - Good things shaking all over the globe! - Work-love-fight to make best soap-peace-earth!

Dr. Bronner's macht gar nichts falsch! Zu den Grundsätzen des Unternehmens gehören unter anderem eine nachhaltige Produktion, faire Löhne und Arbeitsbedingungen für Mitarbeiter und Lieferanten und Gleichstellung aller Geschlechter, Nationen und Religionen.
Das Produkt ist eine zu 100% biologisch abbaubare Seife, die vielseitig verwendet werden kann: Duschen, putzen, Wäsche waschen, usw.
Die Magic Soaps finden in jedem Zuhause Platz, doch auch für Outdoor-Menschen sind sie ideal; man darf sich problemlos im kristallklaren Bergbach waschen und duftet dann sogar noch nach Lavendel, Rose oder einer der vielen anderen angenehmen Duftrichtungen. Ausserdem sind alle Seifen in praktischer Reisegrösse erhältlich.
Gegründet wurde das Unternehmen 1948 von Emanuel Bronner, der in dritter Generation in die Seifenherstellung der Familie eintrat. Heute wird Dr. Bronner's Magic Soap von seinen Enkelkindern weitergeführt.

EN: Dr. Bronner's was founded in 1948 by Emanuel Bronner, a third- generation master soapmaker from a German-Jewish soapmaking family. He used the labels on his superb ecological soaps to spread his message that we must realize our unity across religious & ethnic divides or perish: "We are All-One or None!" Still family-owned and run, Dr. Bronner's honors its founder's vision by continuing to make socially & environmentally responsible products of the highest quality, and by dedicating our profits to help make a better world. All-One!